Ice climbing and winter mountaineering
around Val-d'Isere
When the cold invades our valleys the winter is back once more, freezing over streams and cascades to create a magical realm of shimmering blue ice, the perfect playground for mountaineers equipped with ice axes and crampons.
Ice is an ephemeral matter with varied colours and shapes that, under certain conditions, are reminiscent of rock.
Ice climbing consists in ascending these frozen routes where you will encounter sensations reminiscent of rock climbing. The options are innumerable, ranging from the single-length climbs of initiation cascades to itineraries of several hundred metres. The Haute Tarentaise valley offers endless possibilities for enjoying this activity as a family or amongst friends, from 10 years of age onwards.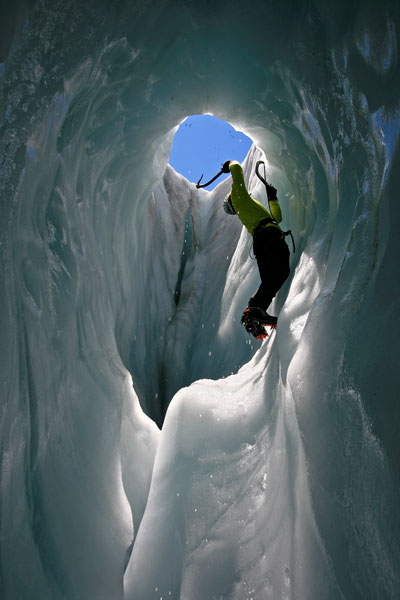 Initiation or improvement in ice climbing and winter mountaineering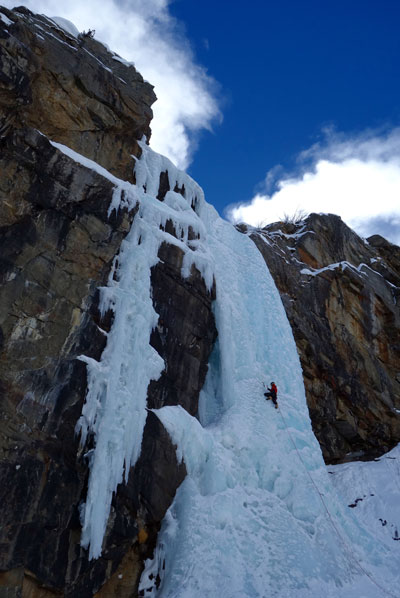 Activité idéale à pratiquer en famille ou entre amis (à partir de l'âge de 10 ans).
For security reasons and for more conviviality, we limit our groups to six people.
Prices :
- Alf day for 1 to 2 persons: 350 € | for 3 to 4 persons: 400 € | for 5 to 6 persons: 450 €
- Alf day afternoon ( 13h00 - 17h00 ) 300 € for 1 to 6 persons
- Full day for 1 to 2 persons: 500 € | for 3 to 4 persons: 550 € | for 5 to 6 persons: 600 €
The sites not to be missed in the valley:
- Les Brevieres icefalls at the bottom of the Tignes' dam
- La Daille icefall in Val d'Isere
- La Gurraz icefalls in Tignes
- Peisey-Nancroix icefalls
Not to mention the high places of ice climbing that are the valley of Cogne in the Valle d'Aosta, the Valley of Ceillac in the Queyras, the valley of Fressinière in the Hautes Alpes.
Discover walking with crampons with a winter climb of the Grande Motte that offers a breath-taking view of Haute Tarentaise and Haute Maurienne.
For more experienced mountaineers we also propose winter mountaineering with the climbing of ice downspouts and other mixed itineraries.