Off-piste skiing in Val-d'Isere
Val-d'Isere is famous worldwide for its ski area but also for the quality and diversity of its off-piste skiing.
With gentle and varied initiation slopes, challenging corridors and inviting valleys with every possible orientation to choose from the options are infinite. From descents of just a few hundred metres to swinging your way down more than a thousand metres of spotless snow, Val d'Isère has something for everyone.
Off-piste skiing is for anyone who is eager to discover the untamed side of the mountains and who wishes to enjoy a skiing experience that differs greatly from resort skiing within constant view of the ski lifts. Equipped with an avalanche transceiver, a shovel and a probe, you will learn the rules to follow for maximum pleasure with maximum safety as you seek out the best snow to be found depending on conditions, be it powder snow, skied out off-piste snow or spring snow .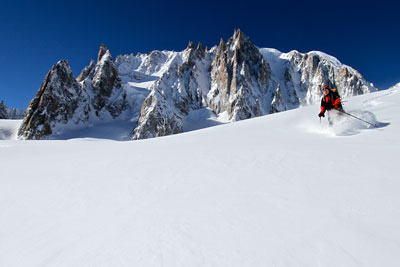 Val-d'IsEre, the best of off-piste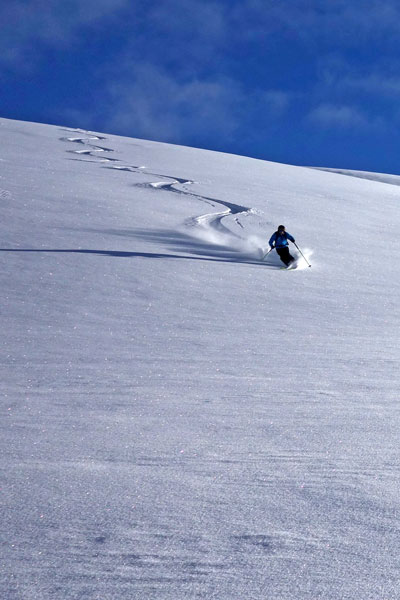 Off-piste skiing can be enjoyed solo, in a family group or amongst friends.
For safety and conviviality we limit our groups to 6 skiers.
Prices :
- Alf day morning ( 9h00 - 13h00 ) for 1 to 2 skiers: 350 € I for 3 to 4 skiers: 400 € | for 5 to 6 skiers: 450 €
- Alf day afternoon ( 13h00 - 17h00 ) 300 € for 1 to 6 skiers
- Full day for 1 to 2 skiers: 500 € | for 3 to 4 skiers: 550 € | for 5 to 6 skiers: 600 €
Some ideas of essential itineraries:
- Le Tour du Charvet
- L'envers de Cugnaï
- Le col Pers
- Les Grands Vallons
- Le Pays Désert
We also propose off-piste ski outings to discover neighbouring resorts: Les Arcs, la Plagne, San Bernado, Sainte-Foy-Tarentaise, etc.