Ski touring around Val-d'Isere
Ski touring is one of the most extraordinary means of adventuring out into the mountains in winter. Imagine yourself far from the crowds, with just the sound of your skis gliding rhythmically across the snow to trouble the silence surrounding you. Ski touring is so many things… breath-taking landscapes, a unique opportunity to observe local wildlife and the thrill of leaving your tracks on virgin snow as you make your way down the type of slope that magically erases any memory of the effort involved in getting to the top!
And don't go thinking that you need to be a brilliant skier to try ski touring; a decent level of off-piste skiing will do the trick.
Val d'Isere is the perfect location for ski touring and with its close proximity to the Vanoise National Park the area offers innumerable possibilities for discovering this activity.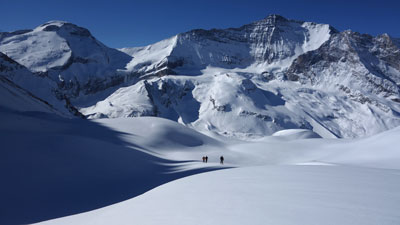 Ski touring for beginers and confirmed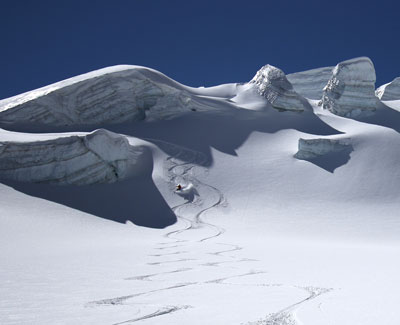 It's possible to head out from the top of the ski lifts for a half-day, a full day or several days of ski touring initiation, to discover an activity that will delight any skier looking for a different approach to the mountains
Ski touring can be enjoyed solo, as a family or with friends, from the age of 12 onwards.
It's possible to organise an outing over two days with a night spent in a mountain hut, itinerant ski tours or tours over several days skiing out each day from the same mountain hut.
For safety reasons and for greater conviviality we limit our groups to 6 skiers.
Prices :
- Alf day for 1 to 2 skiers: 340 € | for 3 to 4 skiers: 380 € | for 5 to 6 skiers: 420 €
- Full day for 1 to 2 skiers: 450 € | for 3 to 4 skiers: 500 € | for 5 to 6 skiers: 550 €
A few ideas of ski touring itineraries heading out from Val d'Isère:
- Tour of Mont Roup
- Col des Fours mountain pass
- Col du Montet mountain pass
- Pointe de la Galise
- Grande Aiguille Rousse