The stays organized by the Val-d'Isere Moutain Guides
Travelling provides a unique opportunity to encounter the unknown, to discover new horizons and different cultures and environments.
Skiing is the perfect pretext for travelling and numerous destinations offer interesting possibilities for enjoying various ski activities. Whether in the northern or the southern hemisphere, skiing out from a boat, from lodgings or a camp site, choosing a mountain hut as home base for several days skiing or taking off on an itinerant ski tour, the possibilities are endless.
Travelling can be enriching in so many ways: an unusual encounter with strangers, a meal shared with the locals encountered in a village, emotions shared with your fellow adventurers, different tastes, different smells, different customs, the opportunity to observe wildlife that you don't find at home.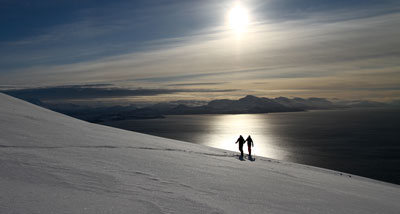 The Moutain Guides of Val-d'Isere are specialists in travel adventure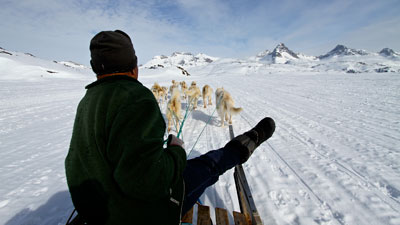 Spitzberg, Iran, Mongolia, Norway, Japan, Siberia, Chile, Turkey, Greenland, Armenia, Antarctic, New Zealand and, closer to home, Italy, Switzerland, Austria, Slovenia and Albania are all destinations that arouse our curiosity. Our guides are experienced travellers who each winter propose several original destinations off the beaten track and who are always on the look out for new adventures.
Feel free to talk to us about any project that may be tempting you. The guides' bureau of Val d'Isère is a member of the Vanoise Mountain Guides and Middle-mountain Guides Company and its agency Vanoise Voyage and is therefore authorised to organise all-inclusive tours .
Vanoise Voyages with Val-d'Isère moutain guides